Many travelers wrestle with the concept of how to enjoy an inexpensive family vacation in a developing country, with the knowledge that a short distance away there may be people living in poverty.   Pack for a Purpose®is a non-profit organization that aims to make a difference by helping travelers make an impact in the communities they visit. This organization has a very easy to navigate site that allows you to type in your travel destination, get information on the supply needs of communities in the area,  get a list of drop off locations, as well as suggestions on how to pack those supplies most efficiently.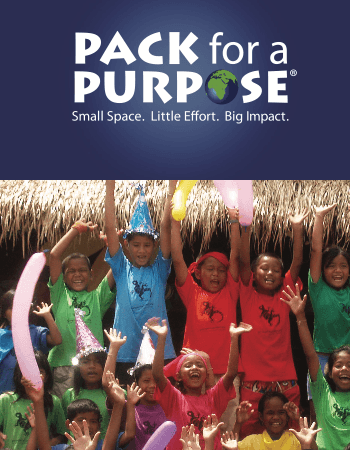 here is an example:

country: mexico
region: mayan riviera
drop off location:fairmont mayakoba near playa del carmen
school supplies needed:
pens, pencils, erasers, individual pencil sharpeners, solar calculators, protractors, colored pencils,crayons, chalk, plastic and wooden rulers, games such as Scrabble®, Connect Four®, Dominoes® and Bananagrams® .

If your kids are old enough, try involving them in putting together a package and use this as a teaching moment.  Perhaps even ask the kids to use some of their own piggy bank money to participate more fully in the activity.
editor's note: I will be trying this out with my kids for the first time within the next six weeks.  I will report back on how it all works out.